Fiat trades on crypto exchanges using the dollar have dropped from 69% to 47% over the past year, according to Kaiko. Meanwhile, the Bitcoin to Ethereum ratio is at its highest since July 2022.
The United States dollar is taking a hit, as its fiat market share declined from 69% to 47% in the span of just a year on centralized crypto exchanges (CEX).
US Dollar Market Share on Crypto Exchanges
Kaiko, an institutional cryptocurrency market data provider, spoke of Bitcoin's trade volume and price increase in a report. The market's biggest asset went past the $28,000 mark and continues to show strong momentum.
Kaiko notes that crypto's trading volume hit a 4-month-high, with the figure hitting $51 billion on March 14, based on information from the 18 most liquid crypto exchanges. The previous high came during the FTX collapse when the trade volumes hit $80 billion.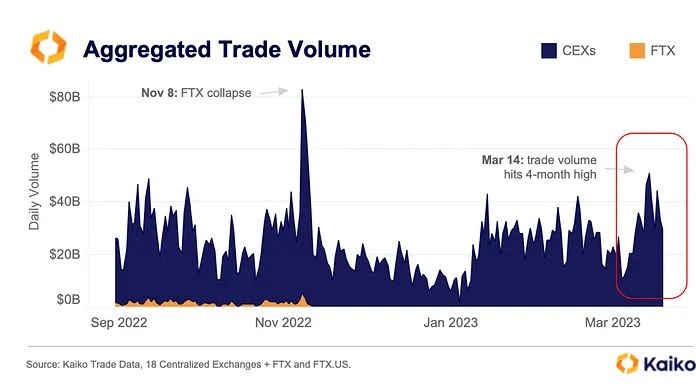 However, one concern that Kaiko points out is low liquidity. The company stated that "liquidity remains thin" and that there is a "2% market depth for BTC-USD and BTC-USDT pairs hit 10-month lows in the aftermath of Silvergate's collapse."
Stablecoins dominate usage on CEXs, and Kaiko believes that several incidents have brought tension to this sector. As it stands, 78% of all trades on centralized exchanges are denominated in stablecoins, while only 19% of trades are denominated in fiat currencies.
One interesting point to note is that dollar usage has dropped from 69% to 47% in terms of usage. Meanwhile, the Korean Won shows good signs, being the second most popular fiat-denominated trade currency at 39%.
Record High Bitcoin to Ethereum Ratio Since July 2022
Kaiko's report has many other interesting statistics that showcase where the market is heading. One of the more notable highlights is that the Bitcoin to Ethereum ratio is the highest since July 2022. This points to how strongly Bitcoin is outperforming the rest of the market. Since March 12, BTC is up 31% compared to ETH, which is up 18%.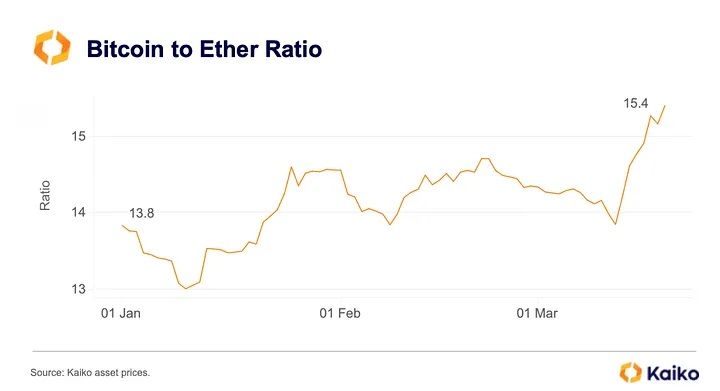 While Ethereum has upgrades in the pipeline that could positively impact its price, regulatory challenges and decisions by exchanges are weighing it down. For example, Kraken recently announced that it would shut down its ETH staking service. A United States Attorney General also claimed that ETH is a security.
Declining Correlation Between Bitcoin and Equities
Another interesting development noted by Kaiko is that Bitcoin's correlation with equities is falling. The 30-day rolling correlation of the asset with tech equities was around 30% last week, but more recently, BTC has outperformed equities in both absolute and risk-adjusted terms.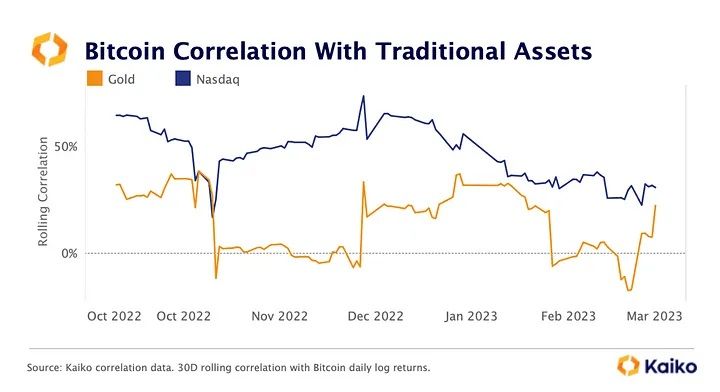 These figures are proving that Bitcoin is resilient and a viable choice during periods of global economic turmoil. So far, the movement of the crypto market appears to corroborate that, though investors will have to wait and see.
Disclaimer
BeInCrypto has reached out to company or individual involved in the story to get an official statement about the recent developments, but it has yet to hear back.